The store will be closed for the week of September 10th, and we will resume our normal hours on Tuesday, September 19th. This is our last closure of the year, where we'll be getting the store and staff ready for what may be a busy Fall!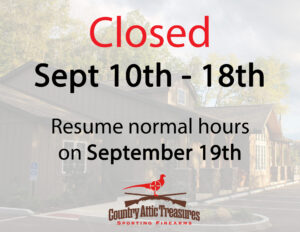 Southwest Ohio's Largest Selection of Sporting Shotguns, Rifles, and Handguns
Country Attic Treasures is Southwest Ohio's best resource for any of your sporting firearms needs. We pride ourselves on our traditional, friendly, and knowledgeable service. After decades of developing close relationships with some of the world's finest firearm manufacturers, listed at the bottom of the page, we carry the area's largest selection of sporting Shotguns along with rifles, and handguns.
When you can't make it down to the store in person, be sure to check our website regularly. We keep our site updated with manufacturer specials, local shooting events, and links to all of our manufacturer's websites.