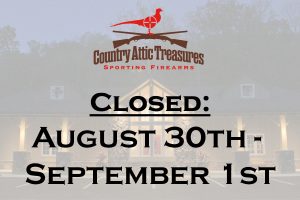 We will be closing the store from August 30th – September 1st to do some system updates, inventory checks, and other behind the scenes stuff which necessitates the store to stay empty for a few days. We will resume normal hours on Friday, September 2nd. Thank you for your patience!
Southwest Ohio's Largest Selection of Sporting Shotguns, Rifles, and Handguns
Country Attic Treasures is Southwest Ohio's best resource for any of your sporting firearms needs. We pride ourselves on our traditional, friendly, and knowledgeable service. After decades of developing close relationships with some of the world's finest firearm manufacturers, listed at the bottom of the page, we carry the area's largest selection of sporting Shotguns along with rifles, and handguns.
When you can't make it down to the store in person, be sure to check our website regularly. We keep our site updated with manufacturer specials, local shooting events, and links to all of our manufacturer's websites.
We will be completely closing the store from Christmas Day until Tuesday, January 4th. During this time, we're going to be doing all sorts of boring behind the scenes stuff, and giving our staff an opportunity to enjoy the holidays with their families. We will be back to our regular hours on January 4th!